You are here:
Home
/
Dr. Burzynski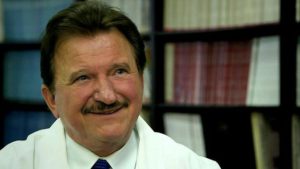 THE FOLLOWING IS THE BIO OF A MAN WHO FACED 3OO YEARS IN PRISON…FOR SAVING PEOPLES LIVES. IT WAS ALL OF THE INSTITUTIONS WE HAVE BEEN RAISED TO TRUST, WHO WERE PERSECUTING DR. BURZYNSKI. 
Dr. Burzynski, a nationally and internationally recognized physician/investigator, pioneered the use of biologically active peptides for the treatment of cancer. In 1967, at the age of 24, Dr. Burzynski graduated first in his class of 250 students from the Medical Academy in Lublin, Poland. It was at this time that he identified naturally occurring human peptides, which were deficient in cancer patients. He concluded that these peptides played a role in preventing the growth of cancer cells. In 1968, he earned a PhD degree and became one of the youngest physician/investigators in Poland to hold both a MD and PhD degree.

Between 1970 and 1977, he received funding from the National Cancer Institute (NCI) for his work as an investigator and Assistant Professor at the Baylor College of Medicine in Houston, TX. During this time he authored/coauthored 16 publications, including five detailing his work on naturally occurring human peptides and their effect on cancer – four of which were co-authored by investigators associated with the M.D. Anderson Cancer Center or the Baylor College School of Medicine. In May 1977, Dr. Burzynski received a Certificate of Appreciation from the Baylor College of Medicine that acknowledged his contributions to the 'Advancement of Medical Education, Research, and Health Care'.

In 1977 that the Burzynski Clinic was established in Houston, TX. Since then, more than 8,000 patients have received treatment at the clinic, including more than 2,300 cancer patients who have been treated in FDA reviewed and Institutional Review Board (IRB) approved clinical trials program of Antineoplastons, investigational agents that derived from Dr. Burzynski's early investigations of naturally occurring human peptides. Currently, new FDA-reviewed Phase II and III clinical studies utilizing Antineoplastons are awaiting Institutional Review Board (IRB) approval prior to patient enrollment.

Dr. Burzynski has extensive experience treating cancer with combinations of targeted agents and the drug phenylbutyrate (PB), which targets multiple genetic abnormalities simultaneously.

Dr. Burzynski is the author/co-author of over 300 scientific publication/presentations. He has collaborated with investigators at the NCI, the Medical College of Georgia, the Imperial College of Science and Technology of London, the University of Kurume Medical School in Japan, and the University of Turin Medical School in Italy, among others. He is a member of several prestigious organizations, including the American Association of Cancer Research (AACR), the Society for Neuroscience, the Society for Neuro-oncology, the Royal Medical Association (U.K.), and the Academy of Medical Ethics. As of June 2015, he held 244 patents in 35 countries covering 17 proprietary scientific inventions.